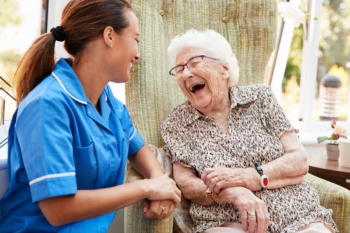 Unison and the charity Mencap have written to the Prime Minister urging him to amend the current rules regulating the wages of care workers who undertake sleep-in shifts.
The letter insists that 'action is needed urgently' to amend the rules so sleep-in shifts – where staff have to stay overnight away from home – are defined as working time and paid at minimum wage rates.
Last month, the Supreme Court ruled that workers should not be paid the minimum wage for hours they are asleep during sleep-in shifts. This marked the end of a four-year legal battle that could have ended with providers being landed with a £400m bill for six years of back pay.
Unison and Mencap were on opposite sides of the case. However, in their letter to the PM they said they were 'united in the same vision' of a 'properly funded care sector'. They argued that paying staff 'decent wages' was essential for achieving this and added this would help with staff retention.
They called on Boris Johnson to ask the Low Pay Commission to investigate the issue of sleep-in pay and reassess the status of shifts so 'the entirety of these' are treated as working time.
Mencap and UNISON reminded Mr Johnson that 'care workers are already among the lowest paid in the country' and some earn less per hour than the average retail assistant. 'We need to prevent their pay being eroded further, the letter stated.
The letter also said that the Supreme Court judgment was a 'huge blow to care workers' and warned it could be seen by some providers and ?council care commissioners as 'an opportunity to cut costs including wages'. Unison and Mencap predict the result could be 'even fewer recruits joining a sector already suffering from thousands of vacancies'.
'The crisis in social care is a betrayal of the most vulnerable in society,' said UNISON general secretary Christina McAnea.
'The whole sector has been broken for years and the government has ignored this. Proper wages for every hour staff work are a key part of ?much-needed reform.
'The fact UNISON and Mencap are united on this issue shows the strength of feeling ?across the care sector that enough is enough. ?Ministers must take heed and act now.'
Mencap chief executive Edel Harris commented: 'Care workers are among the lowest paid in society, yet they do vital, highly-skilled work supporting our loved ones. They deserve better pay.
'Boris Johnson promised to fix social care – paying fairly for overnight support is the first step.
'Today, we're joining UNISON to urge the Prime Minister to change minimum wage legislation. Ultimately, the government's reforms must include properly funding social care and improving pay to create a world-class social care system we can be proud of.'