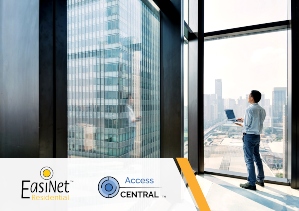 PAC, a world-leading supplier of innovative access control solutions, has announced a new version of its EasiNet Residential v5.3, which combines high security access control with advanced keyholder configuration and management, which can be supported through PAC's secure Residential Cloud.
EasiNet Residential v5.3 enables cost effective expansion into building management systems through the use of PAC input/output controllers to facilitate third-party equipment integration, allowing building services such as heating, ventilation and air conditioning systems to be centrally managed. In addition, lift control means that keyholders are only assigned access to specific floors to maintain social distancing. These features can all be managed via Control Centre – PAC's new 'single pane of glass' management tool for operators.
Consolidating CCTV and access control functionality is more vital than ever and EasiNet Residential v5.3 offers options for 3xLOGIC VIGIL integration. Cameras can be directly configured and monitored through each software solution, with access to VIGIL's business intelligence capabilities achieved via integration with a VIGIL server. As such video verification through CCTV actions can be captured through pre-sets that, for instance, move a pan, tilt, zoom camera as an event is taking place.
PAC's Pete England said, 'Access control technology must be used in smarter ways than ever before to help protect building occupants and achieving this objective is now possible thanks to EasiNet Residential v5.3'.
In order to help partners and customers maximise the potential of these state-of-the-art features, PAC will be hosting webinars for residential markets.