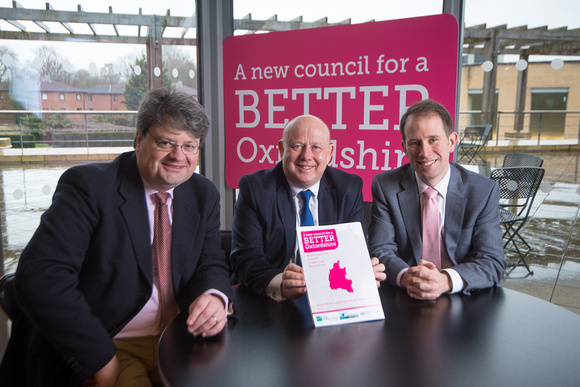 Three Oxfordshire councils today submitted a proposal to create a single authority for the county despite concerns this could upset a joint working partnership between two of its districts.
Oxfordshire County Council, Vale of White Horse District Council and South Oxfordshire District Council have submitted their joint unitary bid to the secretary of state for communities and local government.
The proposal, called A new council for a Better Oxfordshire, makes the case for abolishing the existing two-tier structure of six councils and replacing them with one council.
Two independent studies by Grant Thornton and PwC both concluded a unitary arrangement and increasingly joined up services would save £100m over the first five years.
'Our three councils have listened to the views of residents, businesses and other organisations across Oxfordshire and worked hard to address any concerns in the final bid - and with 70% of those surveyed showing support for a single unitary, we know we are on the right track,' said a joint statement from the three council leaders.
'This is a significant moment for us and for the communities of Oxfordshire, who under a new single council will receive better, simpler joined up services, saving taxpayers millions of pounds each year and ensuring good quality services for generations to come.'
However, South Northamptonshire DC has warned the unitary plans would put its joint working partnership with Cherwell DC at risk.
'Sharing staff, a chief executive and a joint management team has proven to be hugely successful in creating significant cost savings and delivering transformational change across both councils,' South Northamptonshire leader Ian McCord told The MJ.
'It is not possible to pull one council off the see-saw and jettison the other in the air.'
The leader of Cherwell District Council has previously said he 'refused to be pressurised' into supporting this local government transformation.
'When the county council's proposals for a single unitary authority were first unveiled, Cherwell stood united in opposition with Oxford City and the county's other district councils – including South and Vale,' said Cllr Barry Wood.
'The fact that these two fickle councils have now defected to support the county's proposals does not alter my position or opinion that these plans would wreak devastation on the very people I am elected to protect.'
Oxfordshire CC was, according to Cllr Wood, 'inept' at managing its budget and responsibilities:
'Its council tax has gone up year on year but service provision has gone down,' he said.
'Cuts were made to children's centres, highway maintenance and bus routes, when the only thing that really needed to be cut – and wasn't – was the grass.'
The Cherwell leader characterised the proposed unitary council as a 'one-size-fits all' approach and said power should not be taken away from local communities and given to an authority - Oxfordshire CC - which 'cannot manage the services it has now.'
However, Oxfordshire CC, Vale of White Horse and Oxfordshire South DC support the proposed transformation, which they argued would save taxpayers millions and protect frontline services.
'We believe local government reorganisation is vital to protect council services as central government funding is reduced, and to secure the investment in infrastructure needed to support sustainable economic growth in Oxfordshire,' they said.
'It is expected that the government will make a final decision on our proposal later this year, but work is already underway to ensure all six councils work together effectively on delivering a new council for Oxfordshire in 2019.'