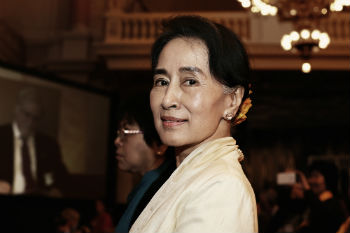 Oxford City Council has decided to strip Aung San Suu Kyi of the Freedom of the City because of her response to massacres perpetrated against Myanmar's Muslim minority.
The controversial leader of Myanmar was granted the prestigious recognition by the council because of her long struggle for democracy and her personal links to Oxford.
Ms Suu Kyi spent 15 years under house arrest due to her pro-democracy activism before winning Myanmar's first openly contested election in 25 years in November 2015.
However, long-simmering tensions between the Government and the country's Muslim Rohingya population, who are treated as second-class citizens, have ignited, causing nearly 500,000 Rohingya refugees to flee to neighbouring Bangladesh.
Even though the violence perpetrated by the state has been described as a 'textbook example of ethnic cleansing', Ms Suu Kyi has refused to speak out against the military and the police.
Ms Suu Kyi — a graduate of St Hugh's College, Oxford — was granted the Freedom of the City by the council in 1997.
Yesterday's motion to strip her of the accolade, which will be formally implemented in November, came after the council wrote to Myanmar's de facto leader calling on her to condemn the killings.
'The city council has written to Aung San Suu Kyi, the State Counsellor of Myanmar, to ask her to speak out and to do whatever she can to stop the ethnic cleansing in her country,' read the motion.
'It was right to give the Freedom of the City to Aung Suu Kyi in 1997 in recognition of her long struggle for democracy and her personal links to Oxford.
'However, in the absence of a helpful response from her and with deep regret, council believes it is no longer appropriate for Aung San Suu Kyi to hold the Freedom of the City.'
Image: Nadezda Murmakova / Shutterstock.com.