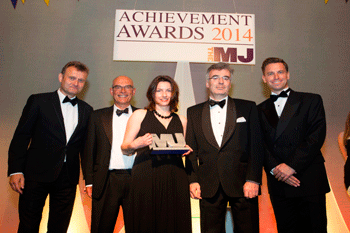 Oxford City Council has been named the UK's best performing council at the prestigious annual local government awards organised by The MJ.
The authority won the Best Achieving Council catagory at a ceremony in London last night.
Oxfordshire CC won the Children's Services category and Northamptonshire CC the Best Council Service Team.
The eleventh annual awards were presented by comedian Hugh Dennis, star of popular BBC sitcom 'Outnumbered'.
Winners in the other 11 categories included:
• Community Investor: Cheshire West and Chester Council
• Behaviour Change: Southend on Sea BC
• Delivering Better Outcomes: Fenland DC
• Excellence in Community Engagement: Southend on Sea BC
• Innovation in Finance: Newcastle City Council
• Innovation in Social Care: Greenwich RLBC
The awards evening was introduced by The MJ's editorial director Michael Burton and The MJ's editor Heather Jameson.
Ms Jameson added: 'The MJ awards are a chance to recognise the hard work of staff and councillors, celebrate successes and spread good practice. The MJ Award winners should be proud of their achievements.'
Michael Burton said: 'The winning entry for the Best Achieving Council category, Oxford City Council, was chosen by the judges because of its strong, visible and collaborative leadership and the way it has transformed itself into a modern and efficient authority.
'Our congratulations go to the senior political and officer management team as well as the staff for their success,' Mr Burton said.
Click here for a full list of winners.
Image: Oxford City Council collects the Best Achieving Council award.