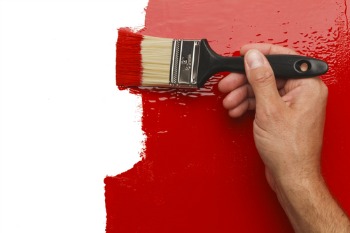 A woman who painted her £15m house in red and white stripes has said she will refuse to comply with council orders to remove them.
Zipporah Lisle-Mainwaring, 71, was ordered to remove the 'beach hut' colour scheme from her townhouse by Kensington and Chelsea RBC but has said she will now appeal the local authority's decision.
She had been accused of applying the unusual paint-job to 'get her own back' against neighbours who objected to her plans to rebuild the property with a two-story basement.
Lisle-Mainwaring has denied the stripes were put up to spite her neighbours, telling the Evening Standard: 'It is my house. I am entitled to do what I wish with it, and there are a lot of people who agree with me'.
She said: 'For most people it is cheaper to do what the wretched council wants than argue with them.'
Lisle-Mainwaring said the stripes 'add to the gaiety of the nation' and would not be removed 'any time soon' with court proceedings likely to last a year.
Kensington and Chelsea served Lisle-Mainwaring with a section 215 notice last month following a large number of complaints about the property. At the time the council said the house needed to be repainted white by 3 July however this deadline could now be extended following an appeal.
When the order was announced, a council spokesperson said: 'The property is situated within the Kensington Square Conservation Area and its condition and appearance has attracted numerous complaints to the council's planning enforcement team. In addition to the exterior being painted red and white stripes, the property's window frames are in a poor condition.'
'If the notice is not complied with by 3 July 2015 then the council can enter the property and carry out the necessary works. Furthermore the council can charge the owner for the costs in carrying out the works and prosecute them in the magistrates' courts.'