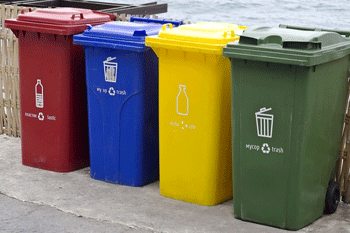 Confusing information has resulted in nearly three in 10 people not recycling as much as they would like, according to research undertaken for environmental services firm, Serco.
The figures, produced by Future Thinking and coming at the start of National Recycling Week, also reveal that those aged 16-34 are the least likely group to recycle everything - 57% - while more than 80% of the older demographic of 55 years and above do so.
Residents in Wales are the most likely to recycle at 75%, while in England more than two-thirds of people in London and the West Midlands recycle everything.
People living in Northern Ireland were least likely to say they recycle all they can – 63%.
Only 8% of people across the country said collections need to be more frequent to improve recycling rates.
Robin Davies, business development director for environmental services at Serco said: 'Councils and service providers put a lot of effort into communicating guidelines to local residents, but their job would be made easier if we all worked together to simplify and standardise recycling information.
'Clearer and consistent information would help people understand what items to put in the right bins and recycle more, leaving local authorities to set their waste collection policies to suit local needs, and building greater confidence among the public that items that can be recycled are being recycled.'
As part of National Recycling Week, the Local Government Association (LGA) has also highlighted the work done by councils, such as Warwickshire County Council and East Riding Council, on promoting to residents what items can be recycled – such as toothpaste tubes and cleaning product bottles.
LGA environment spokesman Cllr Martin Tett said that local authorities were doing 'more with less' but that recycling and waste management services weren't suffering as a result of budget cuts.
He said: 'Councils will have to find further substantial savings from local services to plug funding gaps over the next four years and compensate for the rising cost pressures they face.
'Despite this, local authorities have delivered a transformation in recycling services over the last 10 years, increasing recycling from 23% to over 43%. The LGA's polling shows eight out 10 of the public are happy with the way their bins are collected.'