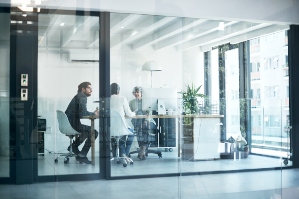 Siderise Special Products has launched the new SIDERISE® MC System - a decorative mullion liner designed to provide a simple yet robust solution for enhancing the acoustic performance, or acoustic and fire performance, of curtain wall facade systems.
Hollow and lightweight aluminium mullions can provide an easy channel for noise to travel between adjoining spaces. The SIDERISE® MC System is an external treatment that is installed over the top of curtain walling mullions where partitions abut. This substantially improves their acoustic performance, with acoustic only and acoustic plus two-hour fire rated versions to choose from.
Suitable for both 'stick' and 'unitised' curtain wall facades, the system is ideal for projects where internal acoustic upgrades to the mullion are not practical. This includes situations where the internal layout is unknown during construction or when fit-out or operation has already begun. Its simple installation process allows it to be installed quickly with minimal disruption to occupiers, without the need to empty spaces of furniture, etc.
Virtually maintenance free, the SIDERISE® MC System is available in a wide range of sizes and colours, with standard colour option like 'White RAL 9016' and 'Dark Grey RAL 7016' available for rapid delivery.
For more information, please call 01473 827695 , email technical.sspl@siderise.com or visit www.siderise.com