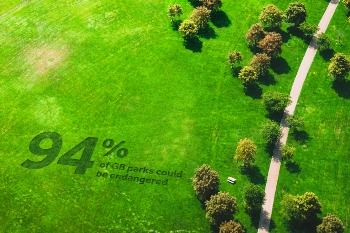 Over 20,000 parks and green spaces are at risk of being lost to building development, a charity has warned.
Fields in Trust said 94% of parks and green spaces have been placed on its endangered list as part of its ParkXtinction campaign.
The green spaces charity is calling on local authorities to take action to protect those in danger such as declaring a legal commitment to preserving sites for recreational use forever.
Earlier this year, Liverpool City Council became the first local authority to legally protect the future of 100 parks and green spaces.
Helen Griffiths, chief executive of Fields in Trust, said: 'These parks and green spaces are under threat today, from financial and development pressures and it is up to all of us to stem this cycle of disappearance and decline. Our children and grandchildren deserve to have the same green space opportunities that we did, so we need to act today before it's too late.
'I call upon local authorities, private landowners and members of the public to check if the local park you enjoy today is endangered via this ParkXtinction link.'
On a visit earlier this year with Fields in Trust, the Duke of Cambridge said: 'The Green Space Index will provide a key tool for local authorities to identify inequity of access to green spaces, and to protect them for communities, now and in the future.'
According to research from the charity, parks and green spaces in Britain capture 402,000 tonnes of carbon annually, the equivalent of taking 320,565 cars off the road each year.