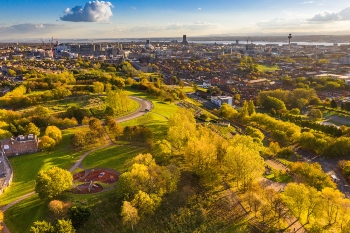 Liverpool City Council has become the first local authority to legally protect the future of its parks and green spaces.
The council has entered a strategic partnership with Fields in Trust to protect 100 parks and green spaces from being built on or sold off.
The decision will ensure every resident will live no more than a ten-minute walk from a high-quality green space.
Cllr Wendy Simon, the council's acting mayor, said: 'The health, wellbeing and community benefits these locations deliver are priceless, demonstrated so clearly during this pandemic where they have become such a central and important part of our lives.
'And the benefits aren't just health related. Access to green spaces improves our neighbourhoods, tackles climate change, supports education and economic growth and they frequently become the stage on which we host many of our hugely popular cultural celebrations.
'Our partnership with Fields in Trust is a ground-breaking, forward-thinking approach to protecting our parks and green spaces and we look forward to working with them to secure the future of these vital assets.'
Only four hectares of Liverpool's parks are currently protected leaving them vulnerable to loss or building development, an evaluation by Fields in Trust found.
Photo: © Liverpool City Council