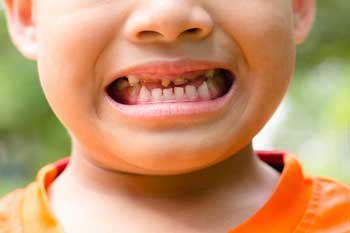 A child in England has a tooth removed in hospital every 10 minutes due to preventable tooth decay, public health body says.
New figures from Public Health England (PHE) have revealed that around 141 children a day are having teeth removed.
The health body also warned tooth extraction remains the most common reason for hospital admissions in five to nine year olds.
The high level of tooth extractions among the young is impacting upon their education. PHE calculated around 60,000 days are missed from school during the year.
As part of their Change4Life campaign, PHE is urging parents to swap sugary drinks for lower or no sugar alternatives.
'It's upsetting to see so many children admitted to hospital with tooth decay, but swapping out sugary drinks could be an easy win for busy families,' said Dr Sandra White, dental lead for Public Health England.
'Parents can also help prevent decay by making sure their children's teeth are brushed twice a day with fluoride toothpaste and reducing how much sugar they're eating and drinking.'
The Government's Soft Drinks Industry Levy, which comes into effect today, is designed to incentivise people to choose drinks with lower levels of sugar.
Responding to the new figures, Cllr Izzi Seccombe, chairman of the Local Government Association's (LGA) Community Wellbeing Board, said: 'These shocking figures strengthen the need for urgent investment in oral health education so that parents and children understand the impact of sugar on teeth and the importance of good oral hygiene.
'Untreated dental care remains one of the most prevalent and preventable diseases affecting children and young people's ability to speak, eat, play and socialise.
'Councils run a range of oral health programmes in schools and local communities, but it is important to note that simply having regular check-ups at a dentist can help prevent tooth decay and the need for hospital treatment later on.'