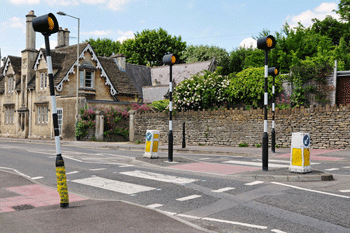 A council has banned 'Scotland's happiest lollipop man' from dishing out high-fives to passing schoolchildren, sparking local fury.
Nkosana Mdikane is famous in West Dunbartonshire for dancing and enthusiastically greeting local parents and children on the school run.
Over seven thousand people have now signed a petition calling for West Dunbartonshire to reverse its decision, which was said to be based on safety concerns.
Video: SWNS TV
A council spokesperson said: 'All our patrollers are trained to comply with the School Crossing Guidelines produced by Road Safety GB and the Royal Society for the Prevention of Accidents. This requires that when crossing children over a road they need to remain static with one hand on their stick and the other stretched outwards. This ensures that they can be seen and effectively provide a visible barrier between school pupils and the traffic.
'Their main role is one of road safety. This national guidance has been effective since 2012.'
International audiences are now voicing their support for Mdikane through #savethehighfives on Twitter and a Facebook group with almost 12,000 likes.
The Change.org petition blasted the council's actions as 'stupid', adding that 'the kids are so disappointed with this decision'.
Mdikane told the BBC: 'When I ask them what is the wrong that I did, they say "you are not concentrating on the traffic".'
He added that he was now 'playing the game according to the rules'.