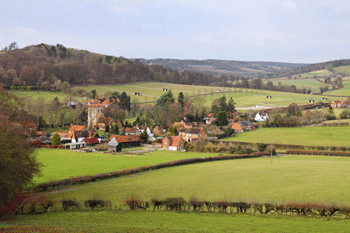 'I love Buckinghamshire County Council, but long for the day when I hear it is being scrapped' - these are the outgoing words of retiring chief executive, Chris Williams.
Issuing a statement as he prepares to leave the council, Mr Williams has called for the 'wholesale shake-up' of local government in Buckinghamshire and other areas that have yet to embraced a unitary arrangement.
Mr Williams said he recommended adopting a unitary model of local government for Buckinghamshire back in 2007, but at the last minute councillors decided not to back the plans. To this day he remains convinced that unitary councils 'work brilliantly' and can save million of pounds and reduce the duplication of services.
In a statement, he wrote: 'The two-tier system of local government made sense in 1974 when it was introduced, and even back then it replaced the equivalent of 15 existing councils down to the five we have today. But more than 40 years on, the two-tier system has become outdated, not fit for purpose and far too expensive to run. '
Highlighting Wiltshire saving £50m in the first four years of becoming a unitary, he added: 'To my mind, it was a serious error not to press for a unitary council. I personally would have been prepared to lose my job and reapply for another one in the brave new world of an entirely new local authority.
'Hopefully, I would have succeeded and been able to keep my new post until my retirement, but even if I hadn't, it still would have been worth it for the benefits it would have brought to the county.'
Mr Williams is calling on leaders across the region to seek a new unitary arrangement, warning local government 'has to change, and it has to change quickly'.