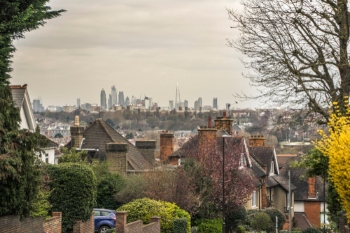 Ethnically diverse local authority areas on the outskirts of London are being left behind in the post-pandemic recovery, think tank warns.
A new report by Resolution Foundation found that the COVID-19 pandemic and its aftermath has slightly reduced employment and house price gaps across Britain.
However, it warns that wider economic divides have not been reduced and that ethnically diverse areas of outer London are at risk of falling behind.
The think tank reported that unemployment has fallen to a joint 40-year low. It did, however, find that some parts of the country – notably areas near airports and outer London – have yet to return to their pre-pandemic health. Nine of the 10 council areas that have experienced the biggest rise in unemployment are in London (the other being Luton).
Strong jobs growth in low-employment areas of the UK like the North East have helped to reduce the UK's regional employment gap – the difference between the rate of employee jobs of the top and bottom quarter of local authorities – from 7 to 6.5.
The Resolution Foundation's study, Right where you left me?, also looked at the pandemic's impact on the housing market.
Between February 2020 and February 2022, house prices have grown twice as fast in villages and small towns as they have in major cities (by 22 and 12% respectively).
This has led to a slight closing of regional house price gaps, as areas with lower house prices (at the 25th percentile) have seen house price growth of 19%, compared to higher-priced areas (at the 90th percentile) which have seen growth of 15%.
Lalitha Try, researcher at the Resolution Foundation, said: 'The pandemic has touched every part of Britain in many different ways. Lockdowns and the "race for space" in the property market have led some to proclaim the death of the city and the revitalisation of villages.
'But as Britain finally emerges from the pandemic, the early signs are that the COVID-19 crisis has failed to scar Britain's economic geography, but nor has it soothed the big spatial inequalities that beset pre-pandemic Britain.
'It is encouraging that strong jobs growth has reduced regional employment gaps. But with many deprived parts of outer London struggling, and the WFH revolution mainly benefitting already prosperous areas, Britain's big economic divides are as entrenched as ever. This makes the task of "levelling up" the country all the more challenging, and all the more pressing.'