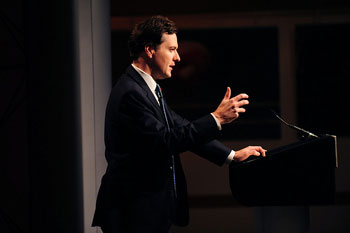 The chancellor has announced a four-point plan that, he claims, will change the way vital infrastructure projects are planned, determined and funded.
The first point includes the removal of planning rules on brownfield sites in order to free up land for development, the directing of the housing budget at new 'low cost homes for sale' for first-time buyers, and the extension of the right-to-buy to housing association tenants.
The Government hopes that this latter move will increase home ownership and construction.
The second part of George Osborne's four-point plan will be the formation of British Wealth Funds. These will be created by pooling the existing 89 Local Authority pension funds into six funds, each one with assets of over £25bn.
The aim of these funds will be to aid the development of expertise in investing in infrastructure in a way that will save money in costs and fees.
The next part of the four-point plan is that the government will bring forward the sales of land, buildings and other assets the Government has bought or built. This should, according to the chancellor, raise £5bn over the course of this parliament, money that can then be invested in infrastructure.
The fourth and final part of the plan is the creation of a new independent National Infrastructure Commission (NIC) that will, according to the chancellor, 'calmly and dispassionately assess the future infrastructure needs of the country.'
The NIC will be headed by Lord Andrew Adonis who said: 'Major infrastructure projects like Crossrail and major new power stations span governments and parliaments. I hope it will be possible to forge a wide measure of agreement, across society and politics, on key infrastructure requirements for the next 20 to 30 years and the assessments which have underpinned them.'