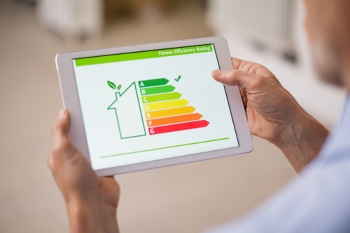 If you need to reach nearly 700 people but you don't have their names or know where they live – then the hope of achieving a 100% response rate can seem impossible.
But that's exactly what the team in Housing Standards at Dorset Council achieved thanks to a new digital way of working.
They were tasked with contacting hundreds of the county's landlords, with the aim of helping them improve the energy efficiency of the properties they rent out.
However, this was a huge challenge. The only information our officers had was the addresses of the rented properties – they did not have all the names or personal addresses of the landlords that owned them.
Poor energy efficient homes were a problem that needed addressing, and as a result, we were awarded money from the Government to run a programme to improve rented properties with very poor heating and energy performance.
Currently, it is illegal to rent a property with an EPC rating of F or G unless the landlord has an exemption. The Government is also considering making it illegal in the future to rent properties with an EPC lower than C.
It was therefore crucial for us to make contact and engage with Dorset's landlords as soon as possible.
Unlocking the key to a digital solution
The first job was to contact rental property owners. We had to contact around 700 landlords of the lowest energy rated properties.
This is where the application of digital came in. Using a digital mailing system, we were able to send letters to all the rental properties on the EPC database. A bespoke envelope with strapline and logo was also designed, with the aim of increasing engagement.
Meanwhile, my colleagues in the council's digital and ICT teams joined forces to develop an online solution powered by Granicus' govService that the landlords could also use. This online solution meant that once the landlords had received their letter, they could then easily access the online portal on a phone, tablet, laptop or computer.
Through this, the landlords were able to answer yes and no questions, which provided the team with all the information they needed to progress their case.
No officer time was needed, and all contact and communication with the property owners, including email replies, were automatically generated.
Plus, a tailored response, using the details submitted by the landlord, was automatically sent out. In return, the team would also receive an automatic email from the online tool telling them the landlord had responded.
Under normal circumstances, when our officers send out unsolicited letters, they would expect a response rate of under 5%. They would also have to chase hundreds of cases just to secure contact.
By contrast, this online solution achieved an initial response rate of more than 40% in the first few weeks and by the time the project was completed, they achieved a 100% response rate.
Digital also helps improve services
But a good response rate was not the only success story of this project – going digital also improved the service the landlords received and in turn this benefits their tenants.
With a few clicks of a button, the landlords were not only able to access their own EPC data, but they could also check how adding things like loft insulation would affect their energy performance rating and how much it would cost them.
As far as we know, this type of energy performance tool is not available anywhere else online in the UK. The team called it the Energy Rating Improver.
Although it is designed for landlords, anyone can access it. This tool enables tenants to look at the EPC rating of their property and see how the rating changes by adding or subtracting improvements.
No housing officer is needed in this process, which frees up their time for other work and helps save the council money.
We are using the feedback gathered from online users to continually tweak and improve the service. In total, 445 landlords with over 600 properties have used the service so far.
One unexpected benefit has been far more engagement with large estate landlords. These estates, which we have many of in Dorset, need extra support as they own older properties that are more difficult to make energy efficient.
This project has demonstrated that going digital has increased efficiency and the effectiveness of the EPC service.
User satisfaction is high and tenants of formerly EPC failing homes now live in more energy efficient properties, meaning lower energy bills and less draughty homes and helping to reduce carbon emissions.
Our example shows how going digital also increases an organisation's efficiency and effectiveness. It saves our officers enormous amounts of time, helped us achieve goals, while at the same time achieving a high level of satisfaction from the people using the service.
Steven March is team leader for Housing Standards, Dorset Council.