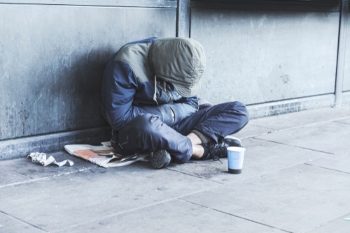 The right to housing should be protected in law, human rights groups says as nearly one in three UK adults report they are concerned about homelessness as a result of housing costs.
A new study by the human rights organisation Amnesty International UK has looked at the law, policy and practice relating to homelessness in England from a human rights perspective.
According to official Government statistics, 270,000 people are currently facing homelessness in England.
Amnesty's report, which is based on a poll conducted by Savanta ComRes, found that 31% of adults were concerned about being made homeless because of the cost of housing, while two in five (41%) said they are concerned someone they know will.
The study – the first research on homelessness Amnesty has undertaken in the country – said that key Government policies aimed at rationing scarce homes have resulted in thousands of people being denied housing.
Under the current system, local authorities in England do not have a duty to provide housing to people if they are subject to immigration restrictions, are not recognised as being in a priority need group for housing, and are deemed 'intentionally' homeless.
Amnesty warned that this was against international human rights law.
'Housing is a human right, not a luxury and it needs to be protected in law,' said Sacha Deshmukh, Amnesty International UK's chief executive.
'The absurd obstacle course which a person experiencing homelessness has to get through in order to "qualify" for housing help is intended to lock them out, because there simply isn't enough housing for the ever-growing need.'
'The current housing system in England is simply not fit for purpose. It needs wholescale reform to restore fairness and compassion,' Mr Deshmukh continued.
'Unless housing is rightfully recognised as a basic legal human right, there is no way to hold the Government to account for its woeful failings.'