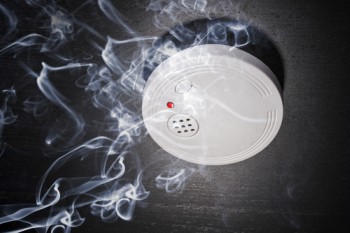 Almost 40% of battery-powered smoke alarms failed to activate in residential fires in England in the past year, safety experts have warned.
The Local Government Association (LGA) is urging the one in 10 homes without a working smoke alarm to buy one and test it regularly to check it is working.
The warning comes in the run-up to winter when serious fires increase.
Latest figures show one in five mains-powered smoke alarms failed to operate in a residential fire in 2016/17 but the failure rate for battery-powered devices is twice as high.
Industry statistics show that more than a fifth of households never test their smoke alarm,
Missing or faulty batteries is the second biggest reason for a battery-operated smoke alarm failing to activate.
Chair of the LGA's fire service management committee Ian Stephens said: 'Smoke alarm ownership has risen over the years to 93 per cent, but their ability to provide a vital early warning is being dangerously compromised if they don't activate due to dud batteries.
'Smoke alarms are proven life-savers, but these worrying failure rates should serve as a stark reminder to people to test their smoke alarms regularly and change batteries where necessary.'