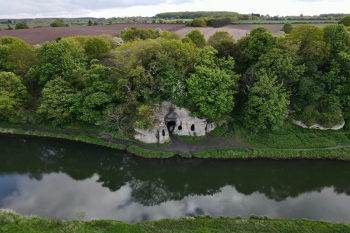 Nottingham councillors have approved the preferred location for a new pedestrian and cycle bridge across the River Trent following a recent public consultation.
The Waterside Bridge, funded through a grant secured from the Government's Transforming Cities Fund, is designed to offer a safer option for people walking and cycling between the Waterside regeneration area on the north bank and Lady Bay on the south.
In addition, new and enhanced connecting paths and crossing points will connect the bridge to the wider walking and cycling network.
Members of Nottingham City Council's Executive gave the go-ahead to submit planning applications for the scheme after nearly 1,200 responses were received.
Over 80% of respondents supported the proposal for a new bridge 'to a great extent' or 'somewhat' and 65% agreed or strongly agreed with the proposed location.
Just over 75% liked or strongly liked the bridge design, while 81% said they would use the bridge.
Cllr Rosemary Healy, portfolio holder for transport, said: 'We carried out a range of feasibility work prior to the consultation which showed the preferred location offered the best connections with the least impact on the environment and existing green space, particularly to the south of the river.
'This bridge will support local, cleaner growth by strengthening links between the city and West Bridgford, providing a quieter, safer option for zero or low carbon journeys. Not only that, but it will also provide easier access to open spaces such as Colwick Park and the green spaces south of the river, offering important benefits for public health.
'Feedback from the consultation has been mainly positive, and I'd like to thank everyone who took the time to comment.'
The council acknowledged that a number of concerns were also raised, particularly around the impact on residents on the north bank and on green space on the south bank, and said these will be addressed in the detailed design that will be submitted for planning permission in the new year.