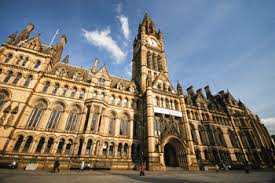 New technologies, infrastructure and investment could help transform the North of England's economy, according to an independent review.
The Northern Powerhouse Independent Review, which was published today, estimates that 1.56m new jobs could be created in the region by 2050 if the right investment, focus and infrastructure improvements are put into four key sectors – advanced manufacturing, digital development, health and energy.
According to the report, half of these new jobs – 850,000 - would be directly attributable to the Northern Powerhouse devolution programme.
It also found the North still lags behind the rest of the UK in terms of productivity and jobs.
The region currently produces £22,000 less per person in terms of gross value added that London, despite having twice as many people than the capital.
'Central to powering the North's future economy will be an efficient high capacity transport network capable of fully mobilising the workforce between the North's key economic heartlands,' said the chair of Transport North, John Cridland.
'The review clearly identifies that such a network must be tailored and shaped to recognise emerging and sustainable strengths whilst acknowledging that many Northern jobs are in other service sector businesses on every Northern high street. In addition to this, improved education will also be vital in northern schools to give young people the chance to go for better jobs using the improved transport links we are delivering.'
Northern Powerhouse minister James Wharton welcomed the report and said the Government was committed to 'bringing together the great cities and towns of the North'.
'This will establish priorities around transport connections across and to the north, skills and employment, trade and investment, innovation and science and - where appropriate - housing to ensure the north can live up to its full potential,' said Manchester City Council leader, Sir Richard Leese.
'The prevailing economic uncertainty following the EU referendum result makes it even more essential that northern cities are given the tools and investment to work together to create the jobs and opportunities the region needs and help rebalance the nation's economy.'