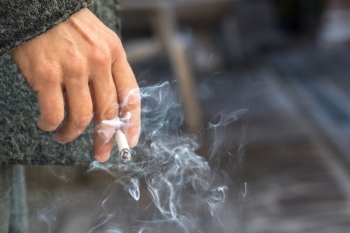 The number of smokers living in poverty is concentrated in the North and Midlands, according to new research.
Analysis by Action on Smoking and Health (ASH) found that 1.5 million smoking households in the UK live below the poverty line, but the figures are not evenly spread across the country.
Three in five of all households containing smokers living in poverty live in the North and Midlands, while fewer than one in five are in London and the South East.
Hazel Cheeseman, deputy chief executive of ASH, said: 'Smokers are more likely to be below the poverty line wherever they live but for those in parts of the country where incomes are lower smoking has a much bigger impact.
'This disparity must be taken into account by Government in the development of future strategies to improve public health and level up society.'
ASH said the analysis also shows the impact smoking is having on in-work poverty as half the households in poverty had at least one earning member.