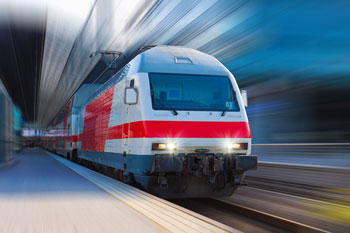 A review of HS2 has warned against stopping work on the high-speed network and insisted that the North and Midlands 'must take control' of the controversial project.
A report by the Northern Powerhouse Independent Review into HS2 has called for the establishment of HS2 North; a special purpose vehicle (SPV) on the model of the Olympic Delivery Authority.
This body would ensure HS2 and Northern Powerhouse Rail (NPR) were fully integrated for 'maximum value'.
Established to inform the Oakervee review of HS2, the Northern Powerhouse Independent Review also warned against scrapping HS2, which it argued was essential for overcoming the North-South divide.
Chris Oglesby, CEO of Bruntwood and member of the Northern Powerhouse Independent Review into HS2, insisted there are 'a number of significant benefits of HS2' that have been ignored.
'HS2 will be transformational in equipping the North to thrive in the fourth Industrial Revolution,' he said.
'It delivers massive economic benefits by increasing capacity and speed both between our cities and into them on both new and existing lines. This, in turn, will increase access to labour markets for high growth industries and drive productivity; as much in enabling new jobs as improving existing ones.
'It will drive regeneration in our cities and towns around the stations and beyond, whilst the stations themselves will also be economic engines in their own right.'
The report calculated the potential aggregate GVA prize for the North and found it equated to £1,000bn between 2035 and 2050.
In Leeds, by 2050 HS2 will create 50,000 new direct jobs adding £54bn GVA to the regional economy. Greater Manchester, will see 97,000 new jobs. In Liverpool, HS2 direct services via NPR will create an additional 24,000 new jobs.
Henri Murison, director of the Northern Powerhouse Partnership, commented: 'To truly rebalance Britain, by building the Northern Powerhouse, we need substantially increased capacity on our rail network.
'The benefits of Northern Powerhouse Rail and HS2 together are greater than either scheme alone and cancellation of either east and/or western leg without a proven and credible alternative could leave us with no way to secure the economic competitiveness we need, which alongside productivity gains, is a pre-requisite of rebalancing the British economy.'
The Oakervee review of HS2 will report to the Department for Transport on the future of HS2 later this week. There has been speculation that the leg of HS2 from the Midlands to Leeds could be axed.