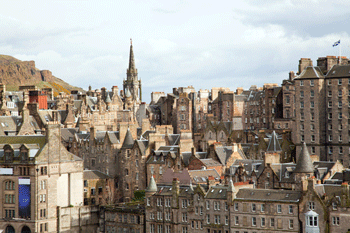 There is no simple north-south divide, a new report by Legal and General (L&G) has argued.
The L&G Rebuilding Britain Index (RBI) said the levelling up agenda should focus on the lack of economic investment in the north but shortages of housing in the south.
It found 'pockets of affluence and deprivation in all parts of the UK, challenging the notion of a north-south divide,' with Cornwall scoring below average but some areas of the north well above average.
Citing Edinburgh, Leeds and Cheshire East as the highest scoring, the report added: 'Levelling up, therefore, needs to be focused at a local level - not regionally or nationally - addressing each communities' challenges and priorities.'
The index found that Wales, the north-east of England and Northern Ireland achieved the lowest scores in the jobs and economic prosperity index across the whole of the UK.
Yet while London and the south-east scored highest in jobs and prosperity the regions scored lowest in housing.
L&G chief executive Nigel Wilson said: 'Levelling up and building back better are, rightly, key government priorities.
'Our new RBI shows that investment priorities differ by area – but that job creation and affordable housing are the centrepiece to improving quality of life.'
The RBI was created to measure the UK's progress in levelling up on a quarterly basis.
It will track social and economic progress across the country, using a combination of statistical data and community opinion across 51 measures, including health and social care, education, housing, jobs, economic prosperity, environment, energy, transport and digital.