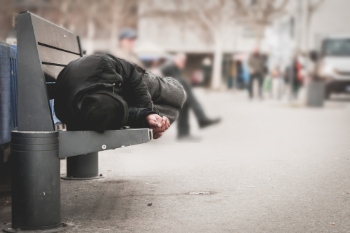 Local authority leaders have called for an end to 'no fault evictions' as new figures reveal they are up 37% on pre-pandemic levels.
New Government figures show 5,260 households were threatened with homelessness in England as a result of a no-fault eviction between October and December 2021.
A Section 21 no-fault eviction allows landlords to evict a tenant with just two months' notice, without having to give any reason.
Commenting on the figures, Cllr David Renard, housing spokesperson for the Local Government Association (LGA), urged the Government to put an end to the practice in its 'entirety'.
'Councils work incredibly hard to prevent the tragedy of homelessness from happening, as well as supporting those who find themselves affected,' he said.
'The dramatic rise in the number of 'no fault evictions' is deeply concerning, as well as the steep rise in approaches to councils from households in the private rented sector. This is putting additional pressure on homelessness services.
'Councils want to see an end "no fault evictions" in their entirety and are eager to work with government on a plan to safeguard tenants as part of the forthcoming Renters Reform Bill.'
Research by Shelter has found nearly 230,000 private renters in England have been served with a formal no-fault eviction notice since the Government pledged to scrap them in April 2019.
The National Residential Landlords Association (NRLA) have accused Shelter of 'scaremongering'. The NRLA said that official data shows that fewer than 10% of tenants who move do so because they are asked to by their landlord or letting agent.
A Department for Levelling Up, Housing and Communities (DLUHC) spokesperson said: 'These figures show the action we're taking to tackle homelessness is already having an impact – the Homelessness Reduction Act has prevented over 475,000 households from becoming homeless or supported them to settled accommodation since 2018 and we're building on that success with £316m funding this year.
'The Government is providing a £22bn package to help households with rising costs and we will bring forward reforms to support renters, including ending Section 21 'no-fault' evictions.'