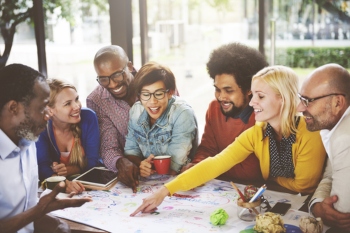 Every local area should be represented by a parish or town council in order to rebuild 'fraying' communities after the pandemic, a think tank has argued today.
A new report by Onward sets out a series of policies aimed at rekindling a sense of belonging after lockdown ends.
The proposals include the widespread introduction of town and parish councils, and giving communities the right to establish a community land trust to provide affordable homes for local people.
It also suggests a civic service scheme to give unemployed young people a paid placement with local charities or social businesses.
Will Tanner, director of Onward, said: 'Everyone focuses on the impact of lockdown on the economy but the truth is that the pandemic has taken a terrible toll on the social fabric of our lives, compounding the long-term decline of community over recent decades.
'As we emerge – finally – from the pandemic, we need to not just revive a flatlining economy, we need to take steps to empower and recapitalise communities, to give people back a sense of belonging and rekindle the social networks and institutions upon which we all rely.'