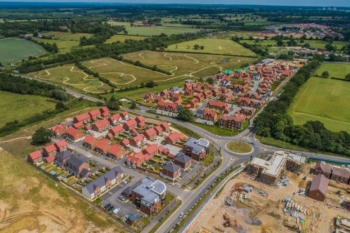 A new index to track the Government's progress on its 'levelling up' agenda has been launched today by a think tank.
The Legatum Institute has published the UK Prosperity Index revealing the prosperity of every local authority in the UK highlighting considerable variation between and within regions.
It reveals that the most prosperous regions of the UK are the South East, South West, and East of England. The most prosperous local authorities are Wokingham (pictured), Waverley, Elmbridge, Epsom and Ewell, and Woking.
According to the index, the least prosperous regions are Greater Manchester, West Midlands (Metropolitan), and Yorkshire and The Humber. The least prosperous local authorities are Blackpool, Middlesbrough, Oldham, Glasgow City and West Dunbartonshire.
It also warns that while the UK is one of the most prosperous countries in the world, its prosperity is currently being undermined by a deterioration in aspects that lie outside of the traditional focus on GDP, infrastructure, and transport.
These include the safety and security of local communities, people's physical and mental health, conditions for local enterprise, key aspects of social capital, and, to a lesser extent, the effectiveness of local governance.
Professor Matthew Goodwin, director of the Legatum Institute's Centre for UK Prosperity, said: 'Genuine prosperity is about far more than building a strong economy or giving people bridges and trains. The Index shows that we also need to invest in areas such as safety and security, health, enterprise conditions, and family and community life if we are to see all citizens, neighbourhoods, and communities reach their full potential.
'This is why, while we support the focus on levelling-up regions that have historically been left behind, we believe that the Government can be bolder. We need to do more than just level-up left behind areas to the status-quo. We should be much more ambitious and aim to reach entirely new heights by creating the conditions that will put all regions and communities into the fast lane toward greater and long-lasting prosperity.'
Former local government secretary Sajid Javid has stressed the importance of devolution in the drive towards levelling up the country.