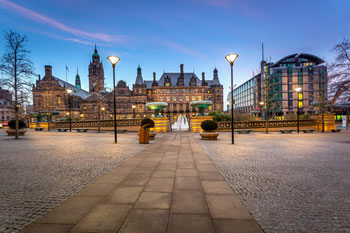 A new devolution deal has been signed with civic leaders from South Yorkshire as part of the government's Northern Powerhouse plan.
Sheffield City Region was one of 38 towns, cities, counties and regions that submitted proposals to Westminster on 4 September for an increased devolution of powers from Whitehall to local authorities.
Chancellor George Osborne will today sign the deal in what he hails as the most fundamental shake-up of local government for a generation. The deal will also see the introduction of a directly-elected mayor in 2017.
The mayor will have a number of powers devolved from central government including responsibility over transport budgets, franchised bus services and strategic planning, among many others.
The new agreement requires the support of the local councils within the Sheffield City Region and is subject to a programme of consultation and engagement with residents and businesses over the coming months.
The chancellor said: 'In becoming the second great northern city to sign up to managing its own affairs with this ambitious agreement, Sheffield City Region is playing a vital part in helping to build the Northern Powerhouse.'
This sentiment was also shared by communities secretary Greg Clark. 'Today's deal is fantastic news for Sheffield,' he said, 'ensuring local leaders have direct control over the city's future to drive local economic growth, attract investment from leading businesses and create thousands of new skilled jobs for years to come.'
Cllr Sir Stephen Houghton, chair of the Sheffield City Region Combined Authority, welcomed the deal. 'Over the coming months,' he said, 'we will be speaking to local residents, businesses and partners about what this means for economic growth in their city region.'