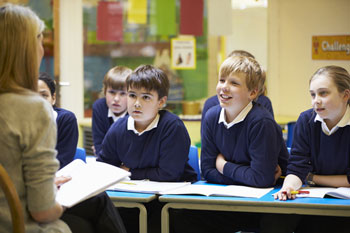 A think tank has warned that the Government's plans to 'level up' school funding will not close the gap between struggling schools and those with healthy bank balances.
New research from Reform found that almost 30% of English local authority secondary schools were in revenue deficit in 2018/19 and that the average deficit for struggling secondary schools rose this year to around £570,000.
They also learnt that since 2011 the proportion of local authority funded secondary schools with no cash reserves has almost doubled – up by 13.7%.
Reform is calling on the Government to reconsider how it spends the additional £4.6bn a year it has allocated to school funding in real terms by 2022/23.
It says this funding should be targeted at schools in most financial need.
Dr Luke Heselwood, senior researcher at the think tank, commented: 'Extra cash for schools is welcome, but it must be well spent.
'A universal "levelling-up" approach risks wasting taxpayer's money, while failing to sufficiently help those schools in financial hardship.'
Reforms research also discovered there was no correlation between revenues and secondary school attainment outcomes, and urged the Government to focus on creating a better strategy for recruiting and retaining the best teachers for struggling schools.