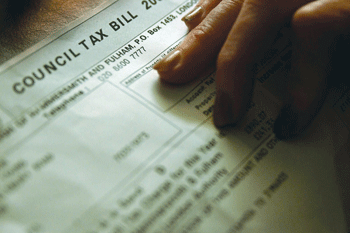 Hundreds of thousands of people in Scotland have missed a council tax payment in the last year after running out of money before pay day, according to new analysis.
Polling by YouGov for the charity Citizens Advice Scotland (CAS) found that 32% of people ran out of money before pay day in the last year. 'Pay day' includes payment day for pensions and benefits.
Out of this group, 30% missed a council tax payment as a result. Based on Scotland's population, this works out as 426,000 people.
CAS warned that against the background of a rise in the cost of living, the end of furlough, the Universal Credit cut and the increased risk of unemployment, more people will be struggling to pay council tax in the year to come.
'Council tax debt is the biggest debt issue the Citizens Advice network sees, and it's concerning that so many people are missing payments because they have run out of money,' said CAS financial health spokesperson Myles Fitt.
'The ending of furlough and other pandemic related financial support measures will have a significant impact on many but other emerging cost pressures are creating a perfect financial storm on household budgets this autumn, and there is real concern that more and more people will struggle to meet council tax payments as a result.'