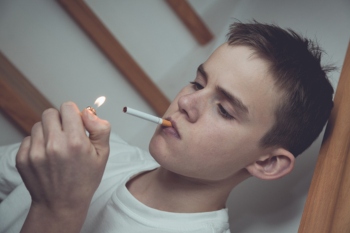 Campaigners have called for tobacco manufacturers to pay to end smoking after figures show 280 children in England start smoking every day.
Health leaders have warned the Government has yet to take action on its Smokefree 2030 pledge, even though over 200 people a day die from smoking.
The campaign for a Smokefree 2030, supported by Action on Smoking and Health (ASH), Cancer Research UK and Fresh, calls for new legislation to require tobacco manufacturers to finance a Smokefree 2030 Fund.
Deborah Arnott, chief executive of ASH, said: 'We're right behind the Government with its Smokefree 2030 ambition, but where's the strategy to back it up? England will only be smokefree by 2030 if we're much tougher in how we regulate tobacco, including making the industry pay for the damage it does. There's no time to lose, the clock is ticking, with less than ten years to go.'
In response, cllr Ian Hudspeth, chairman of the Local Government Association's Community Wellbeing Board, said: 'These stark figures illustrate even more urgently the need for government to tell councils how much public health funding they will get this year, money which pays for councils' tobacco control services.
'Councils can help the Government to achieve its ambition of eliminating smoking in England by 2030, but need adequate long-term funding and certainty for their public health services to help do so.'