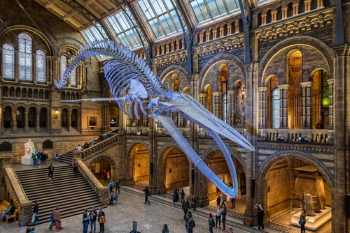 Cultural venues across the country are set to receive £48m of funding to help improve access to the arts, the Government has announced.
More than 60 organisations in England will receive a slice of the funding which is being released as part of the Government's Cultural Investment Fund, which was first unveiled in 2019.
Public venues such as Birmingham Museum & Art Gallery and the museum and former top-secret Second World War code-breaking centre Bletchley Park will receive funding.
Support will also go to smaller venues such as True's Yard Fisherfolk Museum in King's Lynn which celebrates 900 years of the fishing industry, and heritage sites including Berwick Barracks in Northumberland.
'Culture is the bedrock of society. It brings people together, entertains and informs us, and helps us to understand our common past and shared future,' said arts minister Lord Parkinson of Whitley Bay.
'Today we are announcing a raft of new funding for treasured cultural institutions up and down the country.
'This will help them to continue their great work, advance our work to level up access to arts and culture so they can be enjoyed by people no matter where they live, and protect these cherished institutions for future generations to enjoy.'
Last month, the Public Campaign for the Arts found spending on public libraries, entertainment venues, museums, galleries and recreation facilities by councils has dropped to £59.90 per person per year, from £118.93 just over a decade ago.
Jack Gamble, director of the Public Campaign for the Arts, commented: 'The arts are not a luxury – they provide vital benefits to our lives and communities. We appreciate the financial pressures that local councils are under, partly due to cuts from national government since 2010, but sacrificing our cultural services is not the answer.'