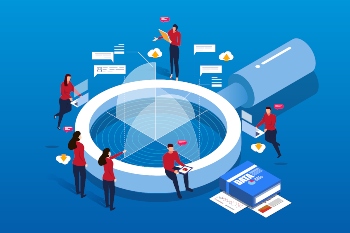 The UK's National Data Strategy, last updated in 2020, explicitly states that as a nation, 'we have a duty to do more with the data that the government itself holds, which can be used and shared for the benefit of society'. This is equally true at the local authority level.
The use of data has been limited by many issues, including data hoarding, unethical usage by companies or departments, unclear access rights, incorrect classification, and outdated storage or analysis processes. This can chip away as people's trust in data and means that it can be hard to innovate further around the delivery of public services.
A data-led transformation of local government services
The power of technology-led solutions is often inextricably linked to the size and quality of the data set they've been built on. It's not a coincidence that two of the few therapies that have been proven to treat COVID-19 were discovered as part of the UK's national clinical RECOVERY trial, because anyone admitted to an NHS hospital with a positive test was eligible to take part. This meant the number of participants and access to large-scale trial data was much larger than a typical clinical trial. As such, local authorities who have insights generated by the many arms of local government, from transport and parking to housing and schools, can be used to identify trends and draw insights for collaborative problem solving and effective policy formulation.
To become truly data-led, local government authorities must first digitise. There are different stages involved in the digitisation process, as local government authorities typically embark on a transformation journey starting with the most basic – information display – and moving through to the more sophisticated stages such as partial service delivery and fully integrated service delivery.
Currently, most local councils in the UK are somewhere between a partial delivery and fully integrated service delivery and have either some, or all, their services deployed online. It's the 'fully integrated' part which is still patchy. The reality is that some departments continue to operate in isolation and have no processes for interdepartmental collaboration and data sharing, although others are becoming increasingly integrated.
Like so many trends, the digital transformation of local government processes has accelerated since the pandemic began to encompass remote working, cloud-first strategies, and many other technology dependent areas. Today, councils are better positioned to adopt an integrated digital data approach and reap the rewards through real-time data insights, automation and artificial intelligence (AI).
Using data to meet the needs of the local community
Consolidated and anonymised data that gives a detailed picture of the way residents are interacting in a local community is a goldmine of insights that will enable councils to innovate further. There are two ways this data can be used to improve local government service delivery:
1. Using historical analysis to support better budget forecasting and improve overall infrastructure. In reality, this is just a continuation of how most departments already work, but pulling in detailed, cross-departmental information will mean decisions are not siloed by departmental thinking.
2. Feeding into a predictive analytics platform to automate modelling and decision making. An analytics dashboard, accessible across all departments, extends predictive problem-solving capabilities to every department of the local government. Transport for London (TfL) is a prime example of a government department that has led the way in the use of open data for innovation. By using large volumes of real-time data, app developers designed and built state-of-the-art travel applications that cater to millions of active users simultaneously.
Another example is how the Scottish Government Improvement Service (IS) is evolving its data handling to solve multiple issues for Scottish residents. The Scottish Government is working towards establishing a national database for Dog Control Notices (DCN), to bring some consistency to the variable number of notifications served by local authorities across Scotland, and to improve the operational effectiveness for the Control of Dogs (Scotland) Act 2010.
The Improvement Service was utilising the project to explore how a Local Government Data Ecosystem might be created, and how multiple pipelines of information could be built from different sources, enabling it to be automated, searchable and accessible, to help better interpret the data. The IS understands that their whole approach to data handling can be improved and it is making positive transformative steps to achieve this.
An easily searchable database platform like the one being used to manage DCNs in Scotland can greatly empower front line workers to make more faster, better-informed decisions. By providing staff with a centralised source of reliable data that can easily be acted upon, councils can reduce the amount of training needed to support new government initiatives. This will also help to free up internal resources, saving valuable time and money.
Ethical data policies will help to build trust
As councils are increasing the sophistication of their technologies and data streams, they need to consider investing in a data ethics workstream in parallel. People's trust is the cornerstone of successful digital transformation, so it's vital that this isn't eroded, otherwise local authorities will struggle to obtain the data they need to improve future service delivery.
The rising adoption of AI has increased the risk of data misuse, making data ethics more relevant today. Council workers, elected councillors and the governance of each local authority need to be confident in their ethical data usage policies before they will approve innovative programmes like predictive analytics, AI and automation. This is because the risk and costs these initiatives going wrong can outweigh the reward.
While councils continue to digitise and transition to a data-led approach, they should ensure there is an effective data ethics programme in place, which includes:
Data ethics as a core value for accountability, from the leadership to the individual level.
User friendly presentation of privacy policies.
A responsible and explainable AI framework.
Privacy and compliance frameworks that keep pace with regulations and laws.
Training programs relevant to business functions and data collected
Our society is fast-becoming data-led and the pace of progress is now lightning fast in most industries. As local authorities are often the primary interface between people and the most critical social areas (housing, schooling, transport, health and social care), it's essential that they become data-led, so they can also increase the speed of progress to the benefit of their residents.
Ved Sen is digital evangelist at Tata Consultancy Services (TCS)