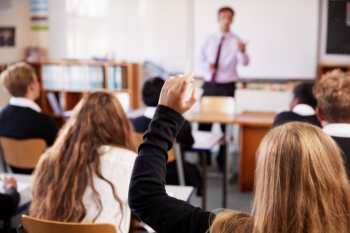 Education investment areas will be set in areas of the country where school outcomes are the weakest as part of the Government's levelling up agenda.
Under plans due to be published tomorrow, the Government will identify 55 'cold spots' that need targeted support and action to transform education.
This includes retention payments for the best teachers in the highest priority subjects, new specialist sixth form free schools and support to address wider issues such as attendance.
The white paper will also include plans to invest £560m in a National Youth Guarantee to ensure every young person in England will have access to regular clubs and activities. An extra £200m will also be invested in the Supporting Families programme to help improve the lives of up to 300,000 vulnerable families.
Education secretary Nadhim Zahawi said: 'This White Paper sets out our blueprint for putting skills, schools and families at the heart of levelling up. It focuses on putting great schools in every part of the country, training that sets you up for success in a high-skilled, well-paid career and ensuring no one misses out on opportunities simply because of where they live or their family background.
'Raising our expectations and aspirations for children, as well as creating a high-skilled workforce, will end the brain drain that sees too many people leaving communities in order to succeed. These plans will help create a level playing field and boost the economy, both locally and nationally.'
The Government will also be publishing a new skills mission to help 200,000 more people in England complete high-quality training each year by 2030.