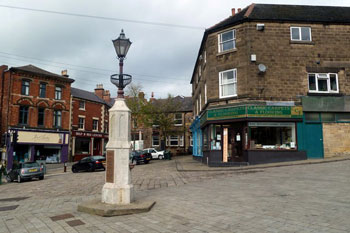 Seven shopping centres across the UK have been named as winners in the national Great British High Street competition.
Judges said there was a 'fantastic response' to the competition on social media with communities posting photos, tweeting and celebrating their high streets entries.
They said the 135 entries – more than a third of local town teams - revealed new and inventive ways to boost high streets. The winners will receive a share of prize money and support worth £50,000.
High streets minister, Penny Mordaunt, said: 'We were really impressed with how people have thrown down the gauntlet for the Great British High Street and shown what's possible on the nation's shopping streets.
'Communities, traders and businesses are absolutely fizzing with bright ideas and initiatives to make our high streets great places to work, shop and live.'
The winners in seven categories are:
• City – The Norwich Lanes
• Coastal – Colwyn Bay
• Market – Belper (pictured above and also overall high street champion)
• Local centre – Barnoldswick
• Village – Broxburn
• Town centre – Wantage
• London – Kingston
A recent report by Southampton University found that far from struggling, innovations like click-and-collect are starting to bring life back to high streets. It said people were now doing more top-up grocery shopping and visiting town centres for many reasons as well as shopping.
The Government has said it is committed to supporting high streets as part of its long-term economic plan.
This includes providing local shops and businesses with a billion pound package of targeted business rate discounts, planning changes and restrictions on what the government calls 'over-zealous' parking practices.
Photo: ©Graham Hogg and licensed for reuse under this Creative Commons Licence