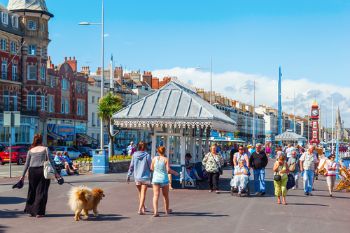 The number of jobs, apprenticeships and training places in Britain's seaside resorts has passed the 10,000 milestone thanks to a special fund, according to coastal communities minister Mark Francois.
The latest figures show almost 3,000 jobs have been created in the towns because of the coastal communities fund and 860 sustained, along with 6,800 new training places and apprenticeships.
Over the past three years the Government has invested £120m to help seaside communities, which it expects to attract more than £213m in private sector investment.
Mr Francois said: 'Few things beat a day at the seaside which is why our coastal communities fund is investing millions in regenerating cherished seaside towns so they can be year-round success stories.
'Our one nation government is determined to kick-start local economic growth, build infrastructure and create the business opportunities so seaside towns can thrive.'
Statistics from VisitEngland show a rise in the numbers of holiday trips being taken in the UK for the first quarter of the year – the highest number in almost a decade. Visits were up 18% on 2014 in England.
The coastal communities fund was extended in the recent budget for another five years.