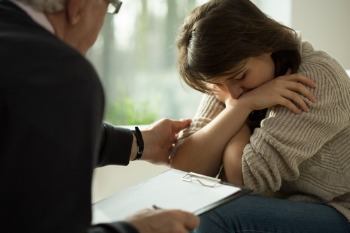 Mental health services are reeling from a funding crisis, low morale and increased workloads, while workplace stress is at record levels, unions warn.
A survey of NHS applied psychologists by the public sector union Unite has revealed 81% of respondents said their workloads have increased either a little or a lot over the past 12 months.
Published to coincide with World Mental Health Day, the survey also found 35% of the psychologists who took part have seriously considered leaving their NHS posts during the last year.
The survey's respondents, which included clinical, counselling, and trainee and assistant psychologists in the NHS, highlighted pay to be a problem. Nearly all of them (96%) said they believe the Government's current public sector pay policy is unfair.
At last week's Conservative conference, the health secretary Jeremy Hunt said mental health was 'a personal priority for our new prime minister' and implied it would no longer be 'a second class citizen in the NHS'.
However, the Public Accounts Committee (PAC) recently reported being 'sceptical' about the possibility of improving mental health treatment without undermining other NHS services.
The PAC report said Whitehall's ambition to improve mental health services was 'laudable' but cautioned, 'we are sceptical about whether this is affordable, or achievable without compromising other services'.
Unite's survey showed in the past 12 months the workload of mental health professionals has increased and morale has got worse.
Nearly three-quarters (73%) of respondents reported that over the past year their morale was worse or a lot worse, and 77% said they frequently or always work more than their contracted working hours and often those extra hours are worked unpaid.
Unite national officer for health Colenzo Jarrett-Thorpe said: 'Our survey of our NHS applied psychologists is another "wake-up" call that mental health services in the UK are reeling from a perfect storm of budget cuts, low morale and increased – and unsustainable – workloads, which impact adversely on patient care.
'Jeremy Hunt needs to address the funding crisis to deliver a well-qualified and trained workforce, better leadership and an end of practices that cause stress, fear and, ultimately, lead to highly qualified professionals departing the NHS, at a time when their skills are needed more than ever as mental health waiting lists get longer and longer.'
The TUC's biennial survey of more than 1,000 health and safety reps, also published today, revealed workplace stress to be at 'record levels'.
Seven out of 10 reps (70%) cited stress to be a problem an increase of 3% on 2014's survey.
The survey found concern over stress is higher in the public sector than it is in the private sector, and is especially prevalent in central Government (93% of reps cited it as a top five workplace hazard), education (89%) and health services (82%).
TUC General Secretary Frances O'Grady said: 'It's in no-one's interests to have overstretched workforces. People who experience high anxiety are less productive and are more likely to take time off.
'Stress is preventable if staff have reasonable workloads, supportive managers and a workplace free from violence, bullying and harassment.'