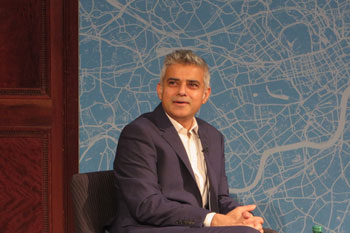 Seven regional and city-wide mayors have come together for the first time to call for a major new programme of devolution to city regions.
On Tuesday the mayors — including four Conservatives and three Labour — met in London and argued the UK is one of the 'most centralised states in the western world'.
Jointly representing areas that account for nearly 39% of all British growth (GVA), they argued devolution was the key to unlocking future growth and improving productivity across the UK.
Cities and regions should have more control over public services, they said, including skills, training and apprenticeship services, as well as programmes designed to help people get back to work.
Attendees included Sadiq Khan, Andy Burnham (Greater Manchester), Tim Bowles (West of England), Ben Houchen (Tees Valley), James Palmer (Cambridgeshire and Peterborough), Steve Rotheram (Liverpool City Region) and Andy Street (West Midlands).
'We may come from different parts of the country and represent different political parties but we all share the same belief – that the best way to secure ongoing prosperity across the country is by giving city regions more control,' said Mr Khan.
'Many of the most dynamic and prosperous cities and regions in other countries have mayors with substantial powers and funding, and it is high time we followed suit.
'There is no doubt that, as regional Mayors, we are the best-placed people to deliver services to meet the specific need of local people – so we are calling on Government to speed up the devolution process and give us more ability to improve peoples' lives.'
Andy Street said: 'This Government more than any other has pushed the devolution agenda with the creation of combined authorities and Mayor's.
'I believe now is the time for Government go a step further and provide us with the tools to tackle the challenges and seize the opportunities we each face. We are already proving our worth, now let us really kick on with the job.'