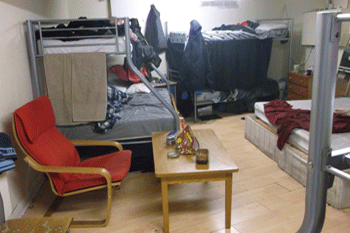 A London mayor has called for stronger local housing powers after his council discovered 26 people living in three-bedroom house.
Mayor of Newham Sir Robin Wales said in a speech at the Chartered Institute for Housing that a lack of supply was at the root of the housing problems.
He said residents were still 'living in sheds' just three years after the borough played host to the Olympic Games.
Newham has the highest level of overcrowding in the UK according to research by the housing charity Shelter.
The raid on a house in the east London borough was part of an ongoing campaign against rogue landlords.
Since the introduction of private rented sector licensing scheme the council has banned 25 landlords from operating in the borough.
In a blistering attack on the Government's housing policy Robin Wales told the CIH a quarter of a million new homes were needed every year.
But he said ministers were tinkering with demand by offering more giveaways to first time buyers.
'As the Government ramps up the desperation, the choice for many of my residents is stark: succumb to rogue landlords, who have no qualms about packing five people to a room and renting out homes without roofs, or leave London altogether, abandoning it to the wealthy and asset hoarders, leaving our public services without the nurses and teachers we need.'
The mayor said Newham was taking action to tackle criminal landlords, increase the supply of good quality private sector rented homes and build new houses.
The council had provided 1,450 high quality units for homeless people and started a shared equity scheme which will put 120 people on the housing ladder every year.
Sir Robin said: 'To drive growth and change lives for the better, we need a housing market that is sustainable and offers security.
'But this government won't help us build, so we won't get the supply we need, and we can't tackle rents and prices.
'And so, though we played host to the world at the Olympic Games in 2012, we still find our residents living in sheds in 2015.
'We desperately need a new, long-term, locally-led vision for our whole housing market.'
Photo: Newham LBC