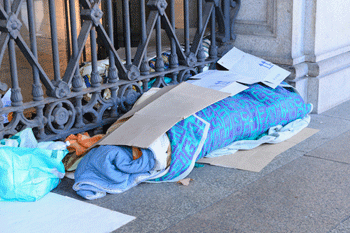 NHS in Greater Manchester has agreed to allocate £1.5m to help tackle rough sleeping and homelessness across the region.
The money will fund the A Bed Every Night scheme for the next year, which has already helped 1,650 people into emergency accommodation since its launch in November 2018.
The extra funding will help people sleeping rough to access better healthcare services such as a registration with a GP practice, mental health services and support to deal with substance and alcohol misuse.
Mayor of Greater Manchester, Andy Burnham, said: 'The time has come for the homelessness crisis to be declared a public health emergency that requires decisive action.
'I am deeply grateful to the NHS here in Greater Manchester for stepping forward to back our drive to end the need for rough sleeping by taking our response to a new level. It is in keeping with the NHS founding mission of helping those in greatest need and recognising that without good housing you cannot have good health.
'It also signifies part of the wider approach being taken in our city-region to move from a treatment model of care to one focused on prevention.'
The funding is thought to be the largest ever NHS investment in prevention of homelessness and rough sleeping anywhere in England.