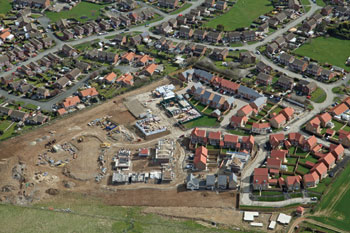 Since One Public Estate (OPE) started with 12 pilot councils in 2013, we now have over 250 local authorities participating individually, as combined authorities, and as LEP partners, and we are looking at significant benefits arising from collaborative working on public land - over 25,000 new homes, 43,000 new jobs, and almost £100m saved in running costs.
OPE is about central and local government working together to get better value from public land and buildings, with councils taking the role of 'leaders of place'. There have been some fundamental truths emerging over the last four years. Firstly, if you don't map all of your assets you'll never properly know what opportunities for joint working there are.
Secondly, establishing a board or partnership forum, which has strong senior leadership, is the only way to get partners to talk, share, negotiate, compromise, and eventually do a deal.
Thirdly, dedicated project management ensures complex schemes get the attention they deserve, especially if the going gets tough - tenacity is needed to see them through.
Over the last four years we've had some successes we're proud of. In York, the city council is working with Network Rail and the National Railway Museum to regenerate the York Central area of the city.
Through OPE the three partners have entered a joint venture agreement to regenerate the large brownfield site, which adjoins York Railway Station, delivering 1,500 new city centre homes and a new 100,000 square metre Central Business District over the next 10 years.
In Bedford, the councils are working with public sector partners including the police and NHS to free up surplus brownfield land in public ownership to deliver land for 700 homes over the next five years.
And, most recently, we were delighted to see that Essex County Council have entered an agreement to buy Essex County Hospital in Colchester - after three years and an initial rejection.
And that leads me to a key lesson: prepare to play the long game. The real benefits will come in the next three or four years, not least because it takes that kind of time for property matters to gestate and deliver the results that were projected for them.
Councils have a proud tradition of making best use of their land and property, but with so many land holdings being freed up by central Government it is more vital than ever that the two sectors work together to get the best outcomes locally, and for the taxpayer.
For example, in the next 10 years over 90 MoD sites ranging from small offices to 1,000-hectare barracks sites capable of sustaining a whole new town will be released. This really is a huge opportunity for councils to shape their place - and it doesn't have to be housing: Dyson, working with Wiltshire, will double their workforce to 7,000 skilled engineering jobs at the 500- acre Hullavington airfield.
For most councils, the other big opportunity area is to deliver a more rational approach to the way in which the NHS estate is managed and developed. It is an industry joke that if you had to set out a route map for negotiating the disposal of health land, someone would say: 'Well I wouldn't start from here!' Funny, but not very helpful.
OPE is working with a dozen London councils to support their health estates devolution plans. A common theme is shifting resources (capital and revenue) currently locked up in large hospital trusts into more community based solutions.
This will be a complex negotiation involving compromise and sharing, but offers an opportunity to plan for London's future health care needs in a way never previously available. And there are many other substantial opportunities: the release of around 200 DWP/JCP+ offices, and 83 of 96 magistrates courts and tribunals for example.
So the opportunity for local government, particularly to aid regeneration, local growth strategies, and deliver their part of the government's one million new homes target, is clear. OPE offers technical support to councils, help with unlocking barriers, and provides money to get these initiatives underway.
OPE is nothing unless it is about partnership and collaboration - for example, we have a shared homes target on public land: central and local government each aiming to deliver 160,000 new homes on our land by 2020 - and I'd like to thank my cabinet office colleagues for not only sponsoring a programme that takes the long view, but also one that adopts a collegiate approach.
We look forward to welcoming a range of new councils and new proposals in our Phase 6 applications.
Brian Reynolds is programme director for One Public Estate.
This feature first appeared in Public Property, a new supplement launched by LocalGov to reflect the growing involvement by local authorities in the commercial property market. To see an e-book version contact Laura Sharman at l.sharman@hgluk.com