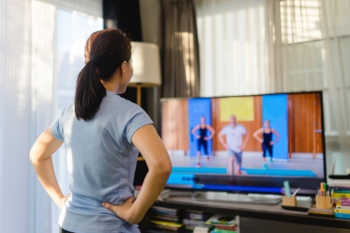 Seven in 10 adults say that the threat of the coronavirus has motivated them to lead healthier lives this year, a public health survey has revealed.
Published by Public Health England (PHE), the poll found that almost half of the population (43%) feel more motivated to make changes to their life in January.
Eight in 10 adults aged over 18 have decided to modify their lifestyle in 2021, and around six million adults aged 40 to 60 plan to eat more healthily (40%), lose weight (39%), and exercise more (41%).
In addition, four in 10 (43%) regular smokers plan to quit this year and nearly half of those who increased their alcohol intake during the second lockdown (45%) intend to drink less alcohol.
To support the public in making these changes, PHE has launched its latest 'Better Health new year' campaign to encourage the nation to work towards a healthier lifestyle.
Commenting on the survey, Dr Alison Tedstone, chief nutritionist at PHE, said: 'The past year has been immensely challenging and being stuck at home much more this year, understandably, has seen some unhealthy habits creeping up on us all.
'But our survey shows the vast majority of us want to do something positive this year to improve our health and now is a good time for a reset, whether it be eating more healthily, being a healthier weight, getting more active, stopping smoking or doing more to look after our mental health.
'All these are changes that will help us feel better about ourselves – just search 'NHS Better Health' for our free tools and advice.' 'There is no doubt 2020 has been a challenging year for everyone. The COVID-19 pandemic has highlighted particularly the impact obesity can have on some people's health and health outcomes,' said public health minister Jo Churchill. 'We know many people want to make changes for a healthier lifestyle and we want to help them. So the Better Health campaign provides a range of tools, like Couch to 5K, to support people in their choices.
'This, together with the government's world-leading obesity strategy, will help motivate and support everyone to take up healthier routines in 2021.'