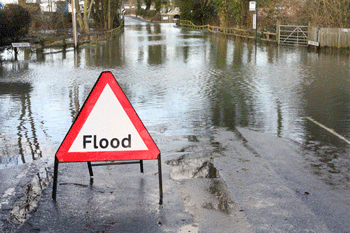 Local authority leaders have welcomed a call from MPs urging the Government to provide councils with the resources they need to protect vulnerable communities from flooding.
A report from the House of Commons Environment, Food and Rural Affairs Select Committee (EFRA) has accused the Government of lacking clear flood-resilience targets, which it says leaves England 'playing catch-up' with climate change.
Published today, the report insisted the Government must set out clearly defined objectives for a level of flood resilience which will protect homes and businesses in line with climate change projections. This would include 'seriously re-examining' the National Infrastructure Commissions's recommendation of a nationwide standard.
EFRA estimates that 5.2 million properties are currently at risk from flooding. As part of the preparations to help communities protect themselves, the select committee also called for a long-term budget for the maintenance of existing defences.
'It's time to accept that severe weather events like Storm Christoph are the rule, not the exception,' said Neil Parish MP, chair of the EFRA select committee.
'The Government's commitment to net zero demonstrates its willingness to act on the climate crisis, but it must recognise that in protecting homes and businesses from flooding, we are playing a long game.
'If the Government will not set well-defined targets for flood resilience, it will waste millions of pounds playing catch-up. We must accept that as floods are here to stay, so must be the defences we build.'
EFRA's report also called for local authorities to be given the resources they need – including for dedicated trained staff – to effectively factor climate change projections into local planning decisions.
As Mr Parish commented, 'local authorities lack the competencies and resources they need to factor flood projections into planning and development decisions. This must be addressed.'
Responding to the report, Cllr David Renard, environment spokesman for the Local Government Association (LGA), welcomed this last recommendation.
'Flooding can devastate communities, causing enormous disruption to families and businesses and resulting in huge clean-up bills,' he said.
'We particularly support recommendations in the report for councils to have the resources they need to help factor flood projections into planning decisions and for an action plan to address the mental health impacts on flood-hit communities.'
Cllr Renard continued: 'Government needs to ensure the reduction of overall flood risk is comprehensively measured and that the new national flooding and coastal erosion strategy is reflected in local plans with councils supported to lead and implement the new strategy locally. The planning process is also critical to ensure flood plains are not over developed.
'Councils are best placed to ensure that flood defence money is directed towards projects that best reflect local needs, including protecting key roads and bridges to keep local residents and businesses moving. Funding for flood defences needs to be devolved to local areas and sit within a new national framework for addressing the climate emergency.'
A Defra spokesperson said: 'As the report recognises, we are investing a record £5.2 billion in 2,000 new flood and coastal defences between 2021-27, better protecting 336,000 properties and building on the significant progress already made to respond to climate change.
'We have a comprehensive long-term plan to invest in new defence assets, maintain our existing ones and double the number of our projects that harness the power of nature to reduce flood risk - all designed to prepare the country for future flooding and coastal erosion.'