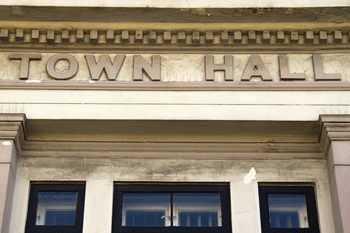 A backbench Tory MP has called for the abolition of district councils ahead of a Westminster debate on England's local authorities.
A new report by the MP for Elmet and Rothwell, Alec Shelbrooke, proposes 'eradicating' the combination of county councils and district councils and replacing them with single-tier unitary councils.
The report, titled A Future for Local Government in England, also recommends the introduction of five year fixed-terms for councillors which, Mr Shelbrooke argued, would save £46m per year because of a reduction in the number of elections.
Mr Shelbrooke's plans for a radical overhaul of local government also include proposals for the equalisation of ward sizes and for the reduction in the amount of councillors.
This last reform would involve the professionlisation of the role with a salary attached and delivering an estimated saving of £24m per year.
'My report sets out an approach to overhaul the complexity and inefficiency of Britain's faltering local government system; the result of a number of piecemeal reforms that have papered over the cracks that can be seen today,' Mr Shelbrooke MP said.
'Most importantly, starting the system anew would allow the largest ever power shift of direct accountability to the electorate, providing a clear and precise understanding of who is responsible for the decisions which affect their lives.'
Responding to the report, Cllr Neil Clarke MBE, chairman of the District Councils' Network (DCN) said: 'Districts are the form of local government closest to their communities and provide the building blocks for place-based approaches required for public sector reform.'
'Some District Clusters which are already collaborating extensively may consider unitarisation as the next logical step, but this should be for local areas to determine,' he said.
'It is essential that any proposals are agreed by all the relevant local authorities as I am sure district councils would form the building blocks for any potential unitary arrangement.'
'District councils and district council clusters are committed to playing an active part in discussions regarding the formation of unitaries to ensure that any new structures deliver better outcomes for the people and places, whilst ensuring that any local government reorganisation does not distract from vital service delivery,' Cllr Clarke added.
The report comes as four district councils in Buckinghamshire announce they have commissioned Deloitte to carry out an independent review of local government structures in the county. Visit The MJ for more on this story.