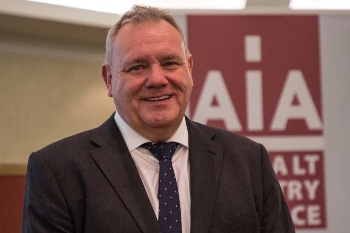 In recent years the ALARM survey has collected information on local authorities' approaches to road maintenance materials and their specification, as well as reporting on funding and condition issues. With industry and authorities both working to reduce carbon emissions, supporting highway engineers to achieve their sustainability goals is increasingly important for us. That's why ALARM 2022 included a new section exploring the path to net zero asphalt.
Respondents told us that 85% of their local authorities already have a net zero pledge, with over half of these (55%) pledging to reach their target by 2030 – a tall order in anyone's book. Despite this, only eight per cent confirmed that their authority has a quantified target to reduce the carbon footprint resulting from the procurement of road surfacing materials. This indicates the level of disconnect between policy and practice and that more needs to be done to encourage uptake of the more sustainable material options available.
That said, when planning and specifying road maintenance, some local authorities already take steps to reduce the carbon footprint, including using Warm Mix Asphalts (WMAs), which can reduce the CO2 associated with asphalt production by up to 15%, depending on the specific product and plant, and improve efficiencies on highways projects.
Much of the research in this area by industry in the UK has been proactively supported by – and delivered on – roads managed by local authorities, helping build confidence in using these materials.
However, their adoption took a big step forward with last year's announcement by National Highways to encourage the use of WMAs as standard on its network – a move that reduces the time and costs previously associated with seeking specific approval.
ALARM 2022 reports that over 60% of local authorities already include WMAs on their asphalt specification list and, of those not currently doing so, 73% are looking to adopt it in the future. However, feedback from our members indicates that being included on the specification list does not yet translate into regular use, with only between five and 10% of total production volumes being WMAs, which is a massive lost opportunity.
Asphalt is, of course, 100% re-useable back into new asphalt and can also contain other recycled and secondary content, reducing embodied carbon inputs. In ALARM 2022, 29% of authorities reported that newly-laid asphalt materials over the last year were explicitly specified to include recycled materials such as recycled aggregates and reclaimed asphalt.
But this can be taken much further, as demonstrated in a project for National Highways last year where WMAs containing 70% reclaimed asphalt content in the base course and 50% in the surface course was used to resurface a section of the M3 in Hampshire. This reduced the use of primary materials (aggregates and bitumen) by 55%, thereby significantly cutting the emissions and energy required for extraction, manufacture and transport.
Another way to reduce the whole-life carbon footprint associated with managing the network is to extend the life of the asset through enhanced material durability. This will lead to fewer interventions, use less raw materials, cut waste and save money over the long term.
As those responsible for our roads know, surface failures can be associated with the hardening of bitumen through its chemical reaction with oxygen in the atmosphere. As a result, the industry continues to focus on developing the next generation of Polymer Modified Bitumens (PMBs), alternative binders and asphalt products which improve flexibility, strength and resistance to fatigue and deformation. Trials are also underway of 'anti-ageing' bitumens, which seek to extend the longer life benefits of PMBs and thus reduce whole-life carbon footprints.
In addition to materials innovation and enhancements, our sector is working hard to cut carbon throughout the road construction and maintenance supply chain. This includes upgrading asphalt plants to become more efficient and investigating switching fuel sources in the production process to lower carbon options. Similarly, future decarbonising of transport and plant, such as switching from diesel to LNG or possibly hydrogen, will also help to cut associated CO2 emissions.
The sustainability credentials of roads would be further enhanced by a longer-term approach to funding. For example, allowing local authorities to plan proactive road maintenance would enable them to drive efficiencies, cut waste and deliver improved road surfaces, benefitting the fuel efficiency (or EV range) of vehicles using the network.
Recent government announcements regarding three-year spending on maintenance (for England) are a step in the right direction but don't go far enough. If we want a truly sustainable local network on which we can all rely, sufficient funding for highways maintenance over a five-year period needs to be recognised as part of the solution.
Rick Green is chair of the Asphalt Industry Alliance (AIA)