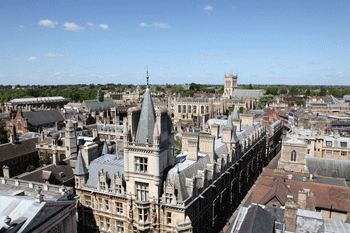 Council leaders have welcomed plans for a major development in the area between Oxford and Cambridge which is estimated could add hundreds of billions of pounds to the national economy.
Chairman of the National Infrastructure Commission Lord Adonis said the 'ground-breaking' deal between Whitehall and local leaders could lead to the first new towns in the UK for half a century.
He urged ministers, and council leaders across the arc covering Oxford, Milton Keynes, Bedford, Northampton and Cambridge, to 'seize the opportunity' to harness the area's economic potential.
He said it would mean building a million new homes, improving local transport connections and creating new jobs without making changes to existing Green Belt protections.
Lord Adonis said: 'I urge local leaders to seize this opportunity and work together with Government, both for the benefit of their residents and of the country as a whole – all by delivering a million new homes and jobs by 2050, investing in improved road and rail links and protecting the area's natural environment.'
Mayor of Cambridgeshire and Peterborough, James Palmer, said a proposed east-west rail line was 'a major step towards seizing the opportunities for growth that this region offers,' while the leader of Milton Keynes Council Cllr Pete Marland said: 'The Commission's report is a strong starting point for an open dialogue on how we can best achieve the requirement for growth while meeting the aspirations of local people.'
Chair of the Oxfordshire Growth Board and leader of Oxford City Council Cllr Bob Price said: 'We will work closely with colleagues across the arc to ensure the growth is properly planned, is sustainable and works in the interests of existing and well as future residents.
'In particular, we want to improve connectivity and tackle congestion to make Oxfordshire an easier place for everyone to travel around.'