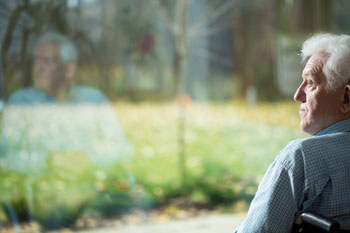 National health policy needs to recognise the 'cost-effective benefits' of initiatives designed to tackle loneliness, local government leaders say.
The Local Government Association (LGA) has warned that loneliness is a growing problem for people of all ages and is a 'major public health concern'.
Loneliness, they said, can be as harmful as smoking 15 cigarettes a day, increases the risk of premature death by 26%, and is associated with higher rates of depression, high blood pressure and dementia.
This places a lot of pressure on an already overstretched health and social care system.
'For too many people, loneliness is their reality all year round,' said Cllr Izzi Seccombe, chairman of the LGA's Community Wellbeing Board.
'They are often less able to look after themselves, which can make existing health conditions worse, and are more likely to become reliant on public services sooner.
'The older population continues to rise and loneliness is also a burgeoning issue among the younger generation. This is leading to increasing demand on social care and health services, and greater costs to the public purse.'
However, the LGA said councils are doing pioneering work to tackle loneliness which has helped ease the burden on the health sector.
This includes organising community events such as communal lunches and putting in place networks of community connectors (cafe owners, for example) who can refer people to available support.
Mendip District Council, for example, has reduced emergency admissions to local hospitals by as much as 20% and related costs to the public purse by £2m.
'Councils, working with communities and health partners, are spearheading successful initiatives which are reducing loneliness, improving the quality of people's lives, and reducing avoidable hospital admissions and health and social care costs,' said Cllr Seccombe.
'But significant Government funding reductions is hampering the ability of councils to continue or expand this key intervention and prevention work.
'To maximise cost effectiveness and improve health and wellbeing, we urge Government to reverse reductions to councils' public health budgets and plug the funding gap facing adult social care which is set to exceed more than £2bn by 2020.'