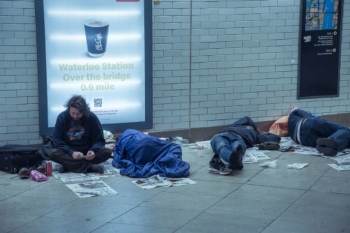 London Councils has warned there is a 'triple whammy' of impending risks that threaten to push homelessness to record levels this summer.
The association cities high unemployment and rent arrears, the end to the ban on evictions and uncertainty over homelessness funding as the three major drivers which risk pushing up homeless numbers.
London Councils estimates there are currently 165,000 homeless Londoners living in council-provided temporary accommodation – two thirds of the homeless total for the whole of England.
Homelessness in London peaked at 63,800 households in temporary accommodation in 2005. The latest figures show there are 60,680 households now, prompting fears the figures could hit record levels.
London Councils' executive member for housing and planning, Cllr Darren Rodwell, said: 'Even though the Covid-19 situation is gradually improving, there's a very real risk of London's homelessness crisis getting even worse.
'In the coming months we can expect a triple whammy of continuing job losses in the capital, the imminent lifting of the evictions ban, and uncertainty over future funding levels for local homelessness services.
'Boroughs are doing everything we can to tackle homelessness in the capital, but ultimately we need the government to rethink its welfare policies and to boost long-term funding for local services if we're to reverse these disastrous trends.'
The association is calling on Government to give councils clarity on their funding, tackle welfare issues including the five-week wait for universal credit, increase discretionary housing payment funding and improve councils' resources to build social housing.
Photo: Ajit Wick / Shutterstock.com