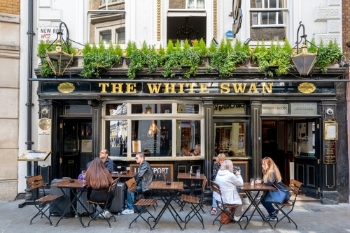 Councillors across London have written to the Government to call for the introduction of a national smokefree condition for pavement seating outside pubs, cafes and restaurants.
The letter, coordinated by the London Tobacco Alliance, comes ahead of a debate on the Levelling Up and Regeneration Bill where peers have tabled an amendment to require all pavement licences to be 100% smokefree.
Under rules introduced during the pandemic, hospitality businesses can apply to councils for a licence to allow them to place outdoor seating. Businesses are required to provide some smokefree seating, but local authorities can go further and make 100% smokefree pavement seating a condition of the licence.
The letters, addressed to the Secretary of State for Health and Social Care, Steve Barclay, and the Secretary of State for Levelling Up, Housing and Communities, Michael Gove, state that the current system is 'too bureaucratic' and 'holds back' many councils from introducing a smokefree condition.
Cllr Jim Dickson, joint cabinet member for Healthier Communities at Lambeth Council and Chair of Lambeth's Health and Wellbeing Board, said: 'Smoking places a major burden on many of our most deprived communities and costs our city £3bn every year in lost economic productivity and health and social care costs.
'London councils are committed to taking action to make our city smokefree, but we can't do it alone. The Government should seize this opportunity to introduce national smokefree pavement seating to improve the health of Londoners and people across the country.'
Deborah Arnott, chief executive of Action on Smoking and Health, said: 'Smokefree pavement seating was recommended in the government's own review of tobacco policies needed to make smoking obsolete led by Dr Javed Khan OBE last year.
'Allowing smoking sets a bad example to children, and smoke drifts, exposing customers and staff to toxic and unpleasant tobacco smoke. If the government is serious about delivering a smokefree England by 2030 they should implement this simple and popular measure.'