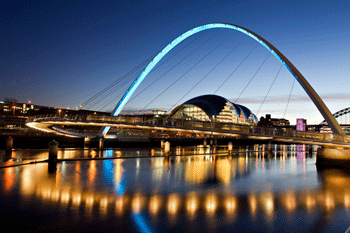 A think tank has slammed successive Governments for leaving the North underfunded compared to London in what they describe as a 'national scandal'.
Research from the progressive think tank Institute for Public Policy Research (IPPR) has revealed the North of England would have seen £59bn more in funding over the last decade, if it had received the same per person for infrastructure as London.
It also discovered the North would have received £10bn more if it had received the UK average spending per head each year for the past ten years.
The think tank criticised the policies of successive Governments which, it says, have prioritised the use of infrastructure spending to prop up the City of London, rather than underpin other sectors such as the North's manufacturing, pharmaceuticals and green energy sectors.
IPPR's researchers said this regional imbalance fuelled the Brexit vote, and they urged the business secretary Greg Clark to put regional government in England at the heart of its modern industrial strategy.
Businesses should make the case for HS3, the researchers said, and the North should have TfL-style powers to undertake borrowing for long-term infrastructure projects.
'This is a national scandal,' said Luke Raikes, IPPR North senior research fellow.
'In most other advanced countries, decisions about transport investment are made locally or regionally, where people really in the know about local problems decide exactly what's needed.
'But in Britain, our Whitehall-knows-best attitude leads to the capital being the Government's default option for more funding.
'Devolving funding for regional infrastructure would help fix Britain's broken economy by closing the regional productivity gap and helping the country to catch up with our competitors overseas.
'If we are ever going to have an economy that works for everyone, we need a federal UK and regional government with teeth, such as a Council of the North, working with a souped-up Transport for the North, businesses and residents.
'That means doing what Whitehall has failed to do for decades, and invest in transport so the whole country can benefit from the realised potential of a New North: northern prosperity is national prosperity.'