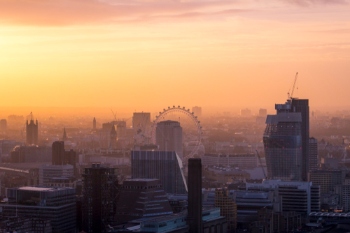 Local authorities in London have committed to work collaboratively to reach net zero targets across the capital.
The cross-party group London Councils has published a series of new Climate Change Programme Action plans, which set out how the capital's local authorities will reduce carbon emissions.
Each of the plans is led by one or two lead boroughs who will oversee and drive forward the implementation of each action plan.
The plans include retrofitting all domestic and non-domestic buildings to an average level of EPC B by 2030, and halving road journeys made by petrol and diesel, through restricting polluting journeys and implementing and encouraging people to use active travel options.
There is also a plan to secure 100% renewable energy for London's public sector and another that aims to reduce consumption emissions by two thirds, with a focus on food, clothing, electronics and aviation.
The plans have been drawn from the Joint Statement on Climate Change which was agreed by London Councils' Transport and Environment Committee and London Environment Directors' Network.
'From confronting carbon emissions from motor vehicles, to building local green economies, and sourcing and creating sustainable energy, London boroughs are a key player in the transition to Net Zero,' said Mayor Philip Glanville, chair of London Councils' Transport and Environment Committee.
'The recommendations highlighted by the London Councils Climate Change Programme Action Plans are crucial opportunities to make London cleaner, greener and more sustainable.'